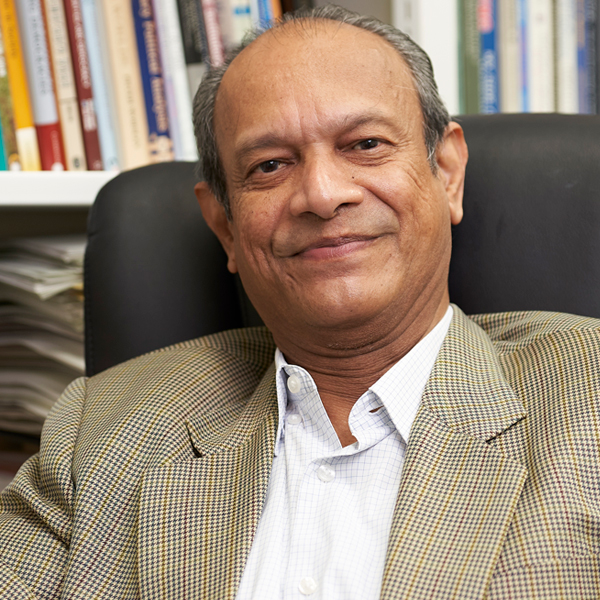 教授
ナラヤナン ガネサン
東南アジア政治、国際関係論
Professor
GANESAN, Narayanan
Southeast Asian Politics, International Relations
略歴
Career
学歴
1. マックマスター大学歴史政治学部1984/05卒業
2. マックマスター大学大学院政治学修士1986/05修了
3. 北イリノイ大学大学院政治学博士1989/12卒業
経歴
1. カナダ、オンタリオ州ハミルトン市、マックマスター大学政治学部準講師1984-1986
2. 米国イリノイ州デカルブ、ノーザンイリノイ大学政治学部講師1987-1988
3. シンガポール東南アジア研究所客員研究員1988/09-1989/01
4. ノーザンイリノイ大学政治学部講師1989/08-1989/12
5. シンガポール国立大学政治学部講師1990/06-1996/06
6. シンガポール国立大学政治学部・東南アジア研究プログラム上級講師1996/07-2003/12
7. 広島市立大学広島平和研究所助教授2004/01-2006/12
8. 政策研究大学院大学客員教授2011-2013
9. 広島市立大学広島平和研究所教授2007/01-現在
Academic background
1. McMaster University Departments of History and Political Science 1984/05 Completed Canada
2. McMaster University Political Science Master course1986/05 Completed Canada
3. Northern Illinois University Political Science Doctoral course 1989/12 Completed USA
Career
1. Tutor, Political Science, Department of Political Science, McMaster University1984-1986
2. Instructor, Comparative Politics, Department of Political Science, Northern Illinois University1987-1988
3. Visiting Associate, Institute of Southeast Asian Studies, Singapore1988/09-1989/01
4. Instructor, Comparative Politics, Department of Political Science, Northern Illinois University1989/08-1989/12
5. Lecturer, Department of Political Science, National University of Singapore1990/06-1996/06
6. Senior Lecturer, Department of Political Science and Southeast Asian Studies Programme, National University of Singapore1996/07-2003/12
7. Associate Professor, Hiroshima Peace Institute, Hiroshima City University2004/01-2006/12
8. National Graduate Institute of Policy StudiesInvited Visiting Professor2011-2013
9. Professor, Hiroshima Peace Institute, Hiroshima City University2007/01-present
研究テーマ
Research Theme
東南アジアの政治および外交政策に関する幅広い分野を研究しています。中でも、政治学の領域で、東南アジア地域の国家および国家間の緊張関係に焦点を当てています。
各国の問題については、国家と社会の関連性と正当性を分析し、政権移行についても、政府の体制や軍による権威主義的統治から民主的規範への移行の連続性の面から研究しています。調査した国はインドネシア、ミャンマー、フィリピン、タイが含まれ、ミャンマーとタイに重点をおいて、民主化プロセスが内戦にどう影響したかについても分析しています。
国家間の問題については、東南アジアの大陸部、島嶼部の両方で、地理的に近接した国の二国間関係について、緊張関係発生の時期や要因、深刻度を長年研究しています。
また、ASEANにおける開発や主要国との関係、そして最も広域な問題としてはASEAN域外の組織とASEANとの関係、また長期にわたりASEANの求心力が求められている中での東アジアの地域主義に焦点を当てた研究を行っています。
My research themes are generally correlated to my broader research interests on Southeast Asian politics and foreign policy. Within this broad area it is further narrowed to examining intra and interstate tensions in the region that are embedded within the discipline of political science.
For intrastate issues, I have traditionally focused on state-society relations and regime transition. The former addresses issues of connectivity and legitimacy while the latter deals with different types of governments and their transition along a continuum. For transitions the work has been correlated in particular to transitions from military authoritarian rule to more democratic norms. Such works have been both focused on individual countries as well as a comparative treatment, and the countries examined include Indonesia, Myanmar, the Philippines and Thailand. Additionally, I also work on how the process of democratization has affected civil conflicts and this work is more focused on Myanmar and Thailand. In the case of Myanmar, it is especially focused on the impact of democratization on ethnic armed insurgency that has plagued the country for almost 70 years now.
For interstate issues I have done much work on bilateral relations between geographically proximate countries in the region, both in mainland and maritime Southeast Asia. When conducting such research, the focus is typically on the sources of tension, how deeply they are embedded and how and when they flare. Attention is also paid to the constituencies involved in the heightening or diminution and management of such tensions.
Then, at a much broader regional level I have worked on developments within ASEAN as well as the regional organization's evolving relations with major powers. And finally, at the broadest level my research has focused on ASEAN's relations with other regional organizations and East Asian regionalism in particular where ASEAN centricity was claimed for a long time.
大学生の皆さんへ
Message to Students
私はこれまで30年以上も教壇に立ち、熱心に教育に取り組んできました。教えることは、教師にとって非常に長い学習曲線の一部であり、国や文化を超えた学生の皆さんから学んだ教訓も大切にしています。
広島平和研究所に着任する前は、1990年から2003年までシンガポール国立大学で学部と大学院の両方の講義を担当していました。また、大学院生の時にも1985年から1990年まで、カナダや米国の大学で教鞭をとりました。
授業では、私はよくパワーポイントのスライドや配布資料を使いますので、皆さんは持ち帰って活用できます。さらに、事前に読むための資料や課題を用意して、講義中に充分な討論ができるようにするとともに、学生の皆さんが独自の考察を深められるよう導きます。
I have been teaching for more than three decades now and have always enjoyed it as a profession. And teaching is also part of a longer learning curve for teachers too. In this regard, I enjoy the transmission of information but also equally appreciate lessons learnt from students across countries and cultures. Prior to my arrival at the Hiroshima Peace Institute I taught both undergraduate and postgraduate classes (in English) at the National University of Singapore from 1990 to 2003. And as a graduate student, I have tutored at a Canadian University and lectured at an American one from 1985 to 1990.
During teaching I often use PowerPoint slides or handouts to guide me along which also serves as takeaway notes for students. They can be used to add on information that students wish to take note of and remember. Additionally, for postgraduate students, I often make my own reading materials available ahead of time and enjoy seminar style discussions that allow for more interaction and independent thinking, drawing on previously circulated discussion questions.
主な研究プロジェクト
Research Projects