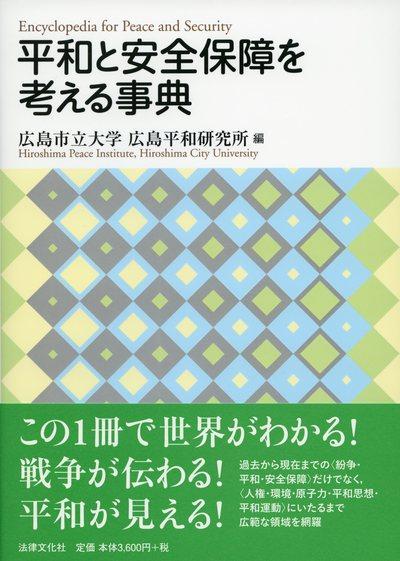 広島市立大学 広島平和研究所/編(法律文化社、2016年3月)
ISBN978-4-589-03739-8
A5判・並製カバー巻・712頁
被爆70周年記念事業の一環として広島市立大学広島平和研究所が編纂した事典。
(1) 広島・長崎の被爆、(2) 軍備・核兵器、(3) 国際政治と安全保障、(4) 国際政治史及び戦争の歴史、(5) 紛争理論と戦争論、(6) 平和運動および平和思想、(7) 平和構築、(8) 法と人権、(9) 原子力問題、(10) 環境と開発、の10分野について、それぞれの分野に造形の深い200名を超える専門家が約1300語を解説する。
激動を続ける国際情勢への理解を深め、平和創造への思索と行動、さらには平和政策の実践へと繋がることを願い編纂された事典である。
Encyclopedia for Peace and Security [Heiwa to Anzenhosho o Kangaeru Jiten]
Supervised by the Hiroshima Peace Institute, Hiroshima City University (Horitsu Bunka Sha, 2016)
The Encyclopedia for Peace and Security has been compiled by the Hiroshima Peace Institute, Hiroshima City University, as a part of the project commemorating the 70th anniversary of the atomic bombing of Hiroshima. This encyclopedia charts the interdisciplinary field of peace and security studies, an emerging discipline that is still evolving.

The ten areas covered include: 1. the atomic bombings of Hiroshima and Nagasaki, 2. armaments and nuclear weapons, 3. international politics and security, 4. international political history and the history of wars, 5. conflict theory and war theory, 6. peace movements and peace thoughts, 7. peace building, 8. law and human rights, 9. nuclear issues, 10. environment and development. Each entry is written by a leading scholar in the field. The encyclopedia is primarily written in Japanese but does contain two columns in English.
It is published in the hope that it will deepen our understanding of the changing world, and could facilitate contemplation and action for the creation of peace, and the practice of peace policy.