この記事は、ジェイコブス教授が参加した広島の被爆75周年にかかるイベントに関するものです。
I was honored to participate in multiple online events and news coverage of the 75th anniversary of the nuclear attack on Hiroshima this August. As we all know, the pandemic dramatically altered traditional commemorations, events, and participation by local, national and international communities in anniversary events here in Hiroshima, in Nagasaki, and elsewhere. Thus, commemoration events became online events in 2020.
Along with Director Oshiba, I joined an online webinar hosted by the Zero Project, along with musician and artist DJ Spooky, and filmmaker Cannon Hersey on August 8th (7th in the USA). There was a round table discussion between the four of us, and then breakout rooms where those attending the webinaenr could join in dialogue with speakers. All of this was followed by a partial performance of DJ Spooky's Peace Symphony.
Here is a screengrab of the roundtable discussion: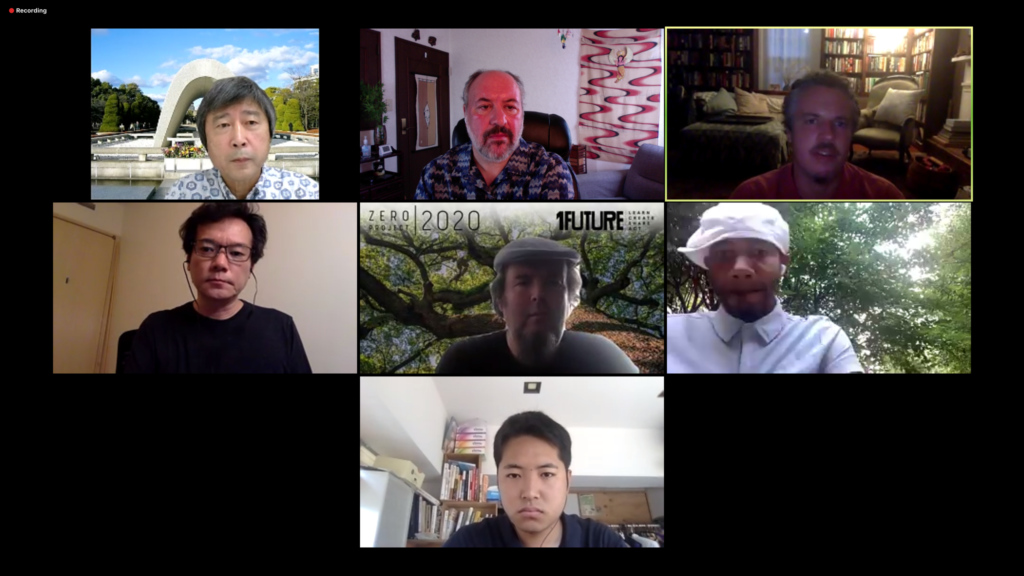 Also, on August 8th I joined eminent scholars Dr. Norma Field (University of Chicago) and Dr. Yuki Miyamoto (DePaul University) in an online webinar, "Managing Nuclear Memory: The Journey from Hiroshima to Fukushima," hosted by the Institute of Asian Studies of Temple University Japan. The webinar was joined by more than 100 audience members, and can be seen here: https://youtu.be/8nSXmSUsBEc
On August 6th itself I was interviewed on multiple English language news programs, including the BBC World Service, Al Jazeera English, Euronews and BBC 1, as well as several international newspapers. These interviews can be seen here: https://bit.ly/2EOnKFl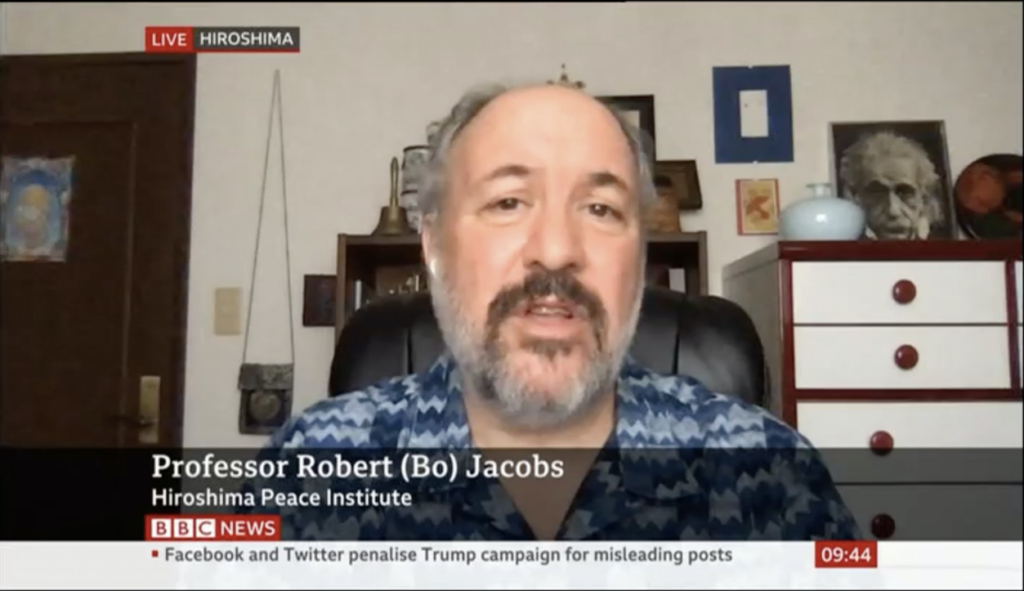 As a native English speaker working on nuclear weapon issues at the HPI, I am often interviewed by Western media organizations about the history of the attacks on Hiroshima and Nagasaki around August 6th. It was interesting for me in that this year that besides questions about the history of the attack here, and the impacts on the hibakusha, the interviewers asked many questions about nuclear weapons during the Cold War, both as threats to peace, and also the legacy of nuclear weapon testing on downwind communities.
As we all do, I hope that next year will bring a return of some measure of normalcy and we will be able to commemorate August 6th in the Peace Park with the full participation of the community. This year was a strange glimpse into a world in which we all were both sitting at home, and also connected across the globe.
Robert Jacobs