The Hiroshima Peace Institute (HPI) held its sixth Public Lecture Series in English. In this program our lecturers presented a series of talks in English, focusing on intriguing topics in their fields of expertise. All lectures were free and open to the public.
Lecture 1
Date & Time: January 20, 2023, from 6 p.m. to 8 p.m.
Topic: "Radioactive Fallout and Dirty Bombs"
Lecturer: Robert Jacobs, Professor, Hiroshima Peace Institute, Hiroshima City University
Abstract: Recent events in the Russian war on Ukraine have raised the global anxieties over the possible use of "dirty bombs." What exactly are dirty bombs? This lecture will explore the nature of dirty bombs, how they are different than regular bombs and nuclear bombs, and what kinds of hazards they present. It will start with a discussion of radioactive fallout clouds and particles, to help us to understand why dirty bombs present radiological risks.
Profile of the lecturer: Bo Jacobs is a historian of science and technology focused on nuclear technologies. His primary area of inquiry is the global hibakusha – the millions of human beings around the world who have been exposed to radiation from nuclear testing, accidents and production. He has also recently been working on issues related to nuclear waste and deep time. His most recent book on this research, Nuclear Bodies: The Global Hibakusha was published by Yale University Press earlier this year.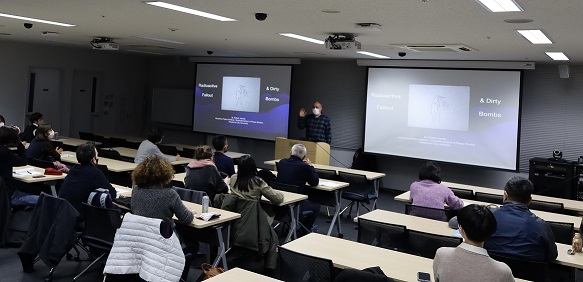 Lecture 2
Date & Time: January 27, 2023, from 6 p.m. to 8 p.m.
Topic: "ASEAN Policy Response to the Military Coup in Myanmar"
Lecturer: Narayanan Ganesan, Professor, Hiroshima Peace Institute, Hiroshima City University
Abstract: The Association of Southeast Asian Nations (ASEAN) has had to deal with the fallout from the military coup against the civilian elected government of Myanmar in February 2021. A collective response called the Five Point Consensus was agreed together with the Myanmar military regime in April 2021. Then Cambodia tried to broker the dispute as the ASEAN Chair in 2022 together with a United Nations Special Envoy. All these attempts have failed thus far and there is growing evidence of disagreements among member countries on how to deal with the situation.
Profile of the lecturer: Dr. N. Ganesan specializes in the politics and international relations of Southeast Asia. His more recent research has been focused on the ethnic peace process in Myanmar and the domestic and regional fallout from the 2021 military coup. During Myanmar's democratic transition from 2015 to 2020 he served as coordinator and trainer for the Myanmar civil service and academics at Yangon and Mandalay Universities that was supported by the German government.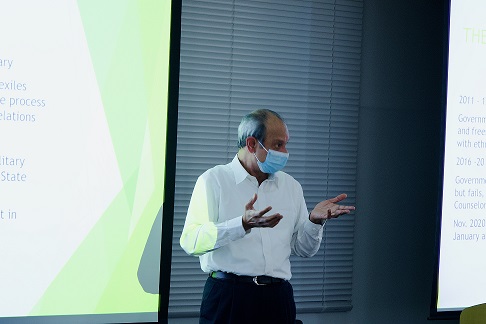 Lecture 3
Date & Time: February 3, 2023, from 6 p.m. to 8 p.m.
Topic: "Russia-Ukraine War and the non-Western Countries"
Lecturer: Mihoko Kato, Assistant Professor, Hiroshima Peace Institute, Hiroshima City University
Abstract: In the Russia-Ukrainian war, why have China, India, and other non-Western countries neither actively supported Russia nor participated in economic sanctions? This lecture will discuss the Russia-Ukraine war and the prospects for international order from the perspective of the restoration of relations between Russia and its former Soviet friends since 2000.
Profile of the lecturer: Kato's teaching and research interests are in Russian foreign policy and the international order after the end of the Cold War. Her recent work focuses on the background and durability of Sino-Russian strategic partnership and competing sovereignty regimes in Northeast Asia.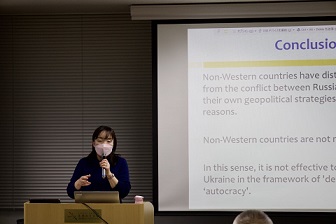 Lecture 4
Date & Time: February 10, 2023, from 6 p.m. to 8 p.m.
Topic: "Indigenous Nuclear Literature in North America: from Uranium Mining to Nuclear Waster"
Lecturer: Kyoko Matsunaga, Associate Professor, Hiroshima University
Abstract: Much of the uranium mining and milling, nuclear testing, and radioactive waste disposal takes place on or near lands belonging to Indigenous nations. Indigenous (and non-Indigenous) writers and artists in North America have responded to this reality in a variety of genres including novels, poetry, drama, graphic novels, painting, and film. We will explore how writers/artists living in Canada and the United States deal with nuclear colonialism on Indigenous lands.
Profile of the lecturer: Kyoko Matsunaga is an associate professor at Hiroshima University, and a former Fulbright fellow at the University of Nebraska-Lincoln. She specializes in Indigenous American literature, nuclear/atomic literature, and environmental literature. Her recent publications include essays in Reading Aridity in Western American Literature (2020), Journal of Transnational American Studies (2020), Ecocriticism in Japan (2017), and her Japanese book American Indigenous Writers and Nuclear Literature: From Apocalypse to Survivance (2019).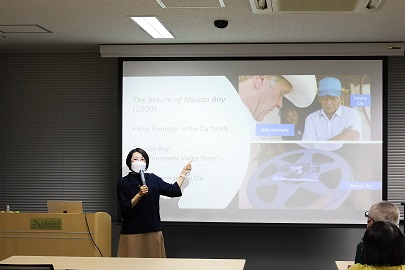 Venue
Seminar Room, Satellite Campus, Hiroshima City University
4-1-1 Otemachi, Nakaku, Hiroshima, 9F Otemachi Heiwa Building
Capacity
40 people (first-come first-served basis)