By Ran Zwigenberg, Associate Professor, Pennsylvania State University, and Kyushu University
The Hiroshima Peace Institute held an HPI Research Forum as follows: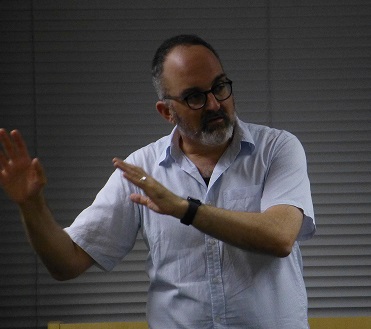 1. Date and Time
August 1, 2023 (Tue.) 18:00-20:00
2. Venue
Seminar Room, Satellite Campus, Hiroshima City University
4-1-1, Otemachi-Heiwa building 9F, Otemachi, Nakaku, Hiroshima City
3. Capacity
30 people (First-come first-serve basis)
4. Language
English only
5. Abstract of the Forum:
In 1945, researchers on a mission to Hiroshima with the United States Strategic Bombing Survey canvassed survivors of the nuclear attack. This marked the beginning of global efforts—by psychiatrists, psychologists, and other social scientists—to tackle the complex ways human minds were affected by the advent of the nuclear age. Nuclear Minds traces these efforts and the ways they were interpreted differently across communities of researchers and victims. The book explores how the bomb's psychological impact on survivors was understood before the invention/ discovery of the concept of Post-Traumatic Stress Disorder (PTSD). In fact, I argue, psychological and psychiatric research on Hiroshima and Nagasaki rarely referred to trauma or similar categories. Instead, institutional and political constraints—most notably the psychological sciences' entanglement with Cold War science—led researchers to concentrate on short-term damage and somatic reactions or even led, in some cases, the denial of victims' suffering. As a result, very few doctors tried to ameliorate suffering. This does not mean the professions "failed" to diagnose PTSD (a non-existent category at the time), rather both doctors and, even more importantly, survivors, understood and experienced psychological suffering and their role in society differently. This is made clear by comparing and connecting the nuclear case with that of Holocaust, military veterans and other victims. Thus, the book sets out, first, to understand the historical, cultural, and scientific constraints in which researchers and victims were acting and, second, to explore the way suffering was understood in different cultural contexts before PTSD was a category of analysis.
6. Profile of Lecturer
Ran Zwigenberg is an associate professor at Pennsylvania State University. His research focuses on modern Japanese and European history, with a specialization in memory and heritage history. He has taught and lectured in the United States, Europe, Israel, and Japan, and published on issues of war memory, atomic energy, psychiatry, and survivor politics. Zwigenberg's first book, Hiroshima: The Origins of Global Memory Culture (Cambridge University Press, 2014), won the 2016 Association for Asian Studies' John W. Hall book award.