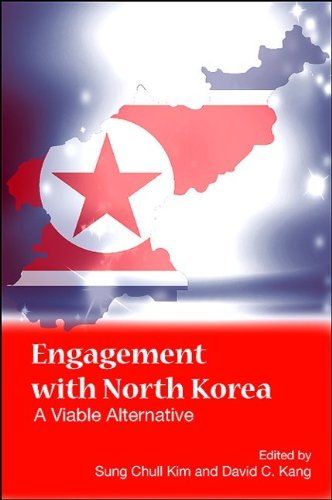 Edited by Sung Chull Kim and David C. Kang (State University of New York Press, 2009)
How the world deals with North Korea and its nuclear capability will have ramifications for both regional and global stability. Engagement with North Korea: A Viable Alternative, the culmination of a 2006-2008 research project conducted under the auspices of the Hiroshima Peace Institute, examines the still controversial policy of engagement. Through an examination of the converging and diverging policies of engagement practiced by the United States, China, Russia, Japan and South Korea, the contributors to this volume explore how and to what extent engagement has achieved some measure of progress, and under what conditions this policy is likely to achieve complete success.
The findings of this volume are as follows: (1) In order to achieve success of engagement in the multilateral context of the Six-Party Talks, the relevant actors have to increase the level of coordination among their diverse strategies. Engagement with North Korea represents a triple-edged phenomenon that encompasses domestic politics concerning North Korea, bilateral relations with North Korea, and multilateral relations within the Six-Party Talks. There always exists tension between the three levels; the key point is how to prevent this complexity from undercutting the positive effect of engagement. (2) The existing logic of quid pro quo will not be sufficient to convince North Korea that full cooperation for denuclearization will best serve its national interest. In view of that there is a close linkage between North Korea's nuclear diplomacy and its national identity, particularly with respect to anti-Americanism, the United States needs to construct foundations of a peace regime on the Korean Peninsula and to facilitate the normalization of relations between the two countries.
[Table of Contents]
| | |
| --- | --- |
| 1 | Introduction: Engagement as a Viable Alternative to Coercion (Sung Chull Kim and David C. Kang) |
| Part I | International Dimension |
| 2 | Waiting to Reap the Final Harvest: U.S. Engagement Policy to Denuclearize North Korea (Youngshik D. Bong) |
| 3 | Looking East: China's Policy toward the Korean Peninsula (Fei-Ling Wang) |
| 4 | Japan's North Korea Policy: The Dilemma of Coercion (Jung Ho Bae and Sung Chull Kim) |
| 5 | Russia and North Korea: The Dilemma of Engagement (Leszek Buszynski) |
| 6 | The Political Economy of North Korea's External Economic Relations (Stephan Haggard and Marcus Noland) |
| Part II | Inter-Korean Dimension |
| 7 | The State-Business Coalition for South Korea's Engagement with North Korea (Sung Chull Kim) |
| 8 | Business Advances to North Korea as Outward Foreign Direct Investment (Eun Mee Kim and Yooyeon Noh) |
| 9 | From Charity to Partnership: South Korean NGO Engagement with North Korea (Edward P. Reed) |
| 10 | North Korea's South Korea Policy: Tactical Change, Strategic Consistency (Charles K. Armstrong) |
| 11 | Conclusion: Engagement in 2007 and Beyond (David C. Kang) |
対北朝鮮積極外交――新たなアプローチ
世界が北朝鮮とその核能力の問題にどう取り組むかということは、東アジア地域の安定にも世界全体の安定にも影響を及ぼす。2006~2008年に実施した広島平和研究所の研究プロジェクトの成果として2009年9月に出版された Engagement with North Korea: A Viable Alternative では、依然賛否両論を引き起こしている、対北朝鮮積極外交を分析している。共鳴と不和を繰り返すアメリカ、中国、ロシア、日本、韓国の各国の積極外交から、これまでの成果と、さらなる成果を挙げるための条件を示す。
まず、多国間関係を維持しながら積極外交を成功に導くには、各関係国の多様な外交姿勢をうまく調整する役割を担う者が必要である。対北朝鮮の積極外交は、各関係国の北朝鮮をめぐる内政事情、北朝鮮と各国の間の二国間関係、そして6ヵ国協議にみられる多国間関係を巻き込む、いわば「もろ刃の剣」ならぬ「三つ刃の剣」である。これら三つの関係性は常に緊張関係にあり、積極外交が実を結ぶ際、いかにしてこの複雑な利害関係が障害となるのを防げるかが成功への鍵となる。
同時に、これまでの駆け引き型の交渉では、北朝鮮の要望に十分応えられる形で、非核化に向けた全面協力を得ることはできない。北朝鮮の核外交と国家としてのアイデンティティ、とりわけその反米精神が、密接な関係の上に成り立っていると考えれば、アメリカの成すべきは何よりも、朝鮮半島における平和レジームの確立と、北朝鮮とアメリカの関係の正常化なのだ。
金聖哲、デイビッド・カン/編(ニューヨーク州立大学出版、2009年)