この度、広島市立大学大学院平和学研究科(博士前期課程・博士後期課程)では、Zoom Cloud Meetingsにて、下記のとおりオンライン進学説明会を行います。参加方法をご確認の上、お申し込みください。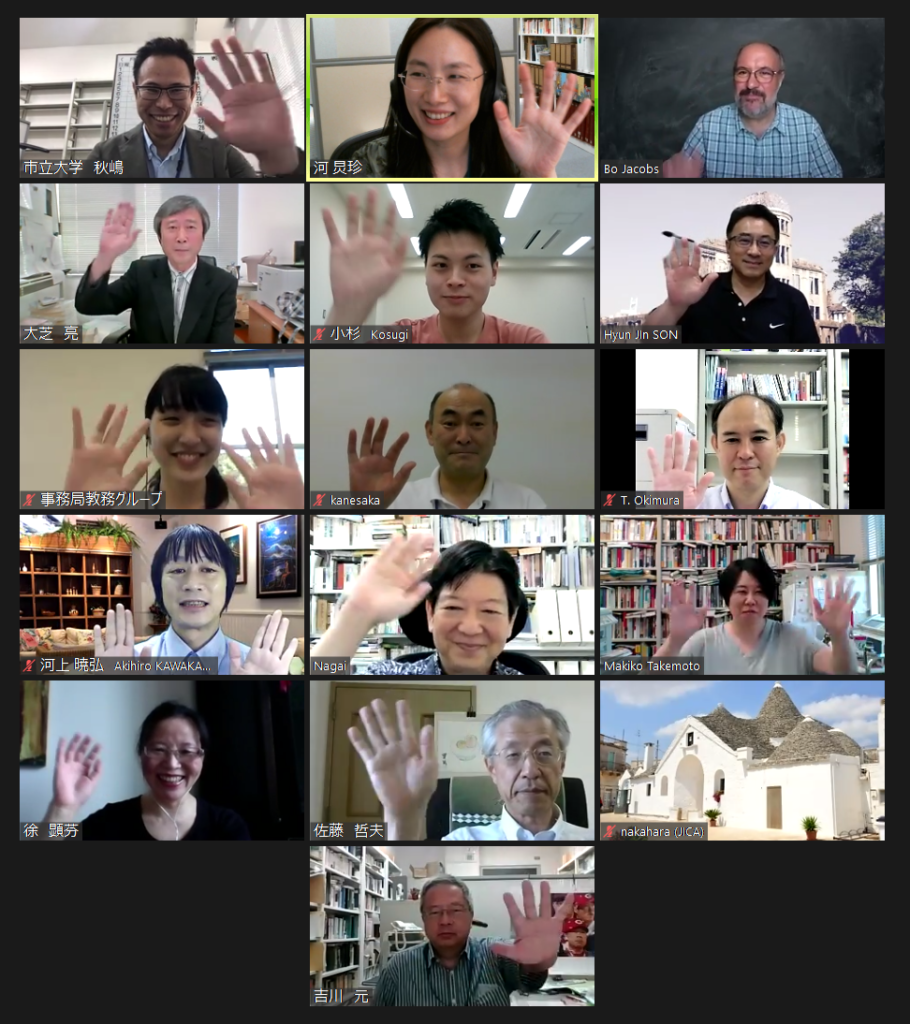 日時:2020年11月6日(金)18:30~20:00
◆参加費:無料
◆プログラム
 第1部 研究科概要説明 (15分)
 第2部 入試概要説明 (15分)
 第3部 現役院生からみた平和学研究科 (10分)
 第4部 質疑応答 (50分)
参加方法
1.メールで参加申込
  ●申込先:広島平和研究所事務室 E-mail:office-peace&m.hiroshima-cu.ac.jp
  (※E-mailを送付されるときは、&を@に置き換えて利用してください。)
  ●記載事項
   ①所属
   ②氏名(ふりがな)
   ③検討中の課程(博士前期 or 博士後期)
   ④個別相談を希望する教員名(複数可) ⇒ 教員一覧
   ⑤質問(あれば)
  ●申込締切
   10月30日(金)
2.広島平和研究所事務室からの確認メール
  説明会で使用するZoomのミーティングIDとパスワードをお知らせします。
3.「ミーティング用Zoomクライアント」のダウンロード
  ご使用になるパソコンやスマートフォン等へインストールしてください。https://zoom.us/download
4.当日
  ミーティングID・パスワードを使い、進学説明会のZoom Meetingにログイン  
  ⇒詳しくは、チラシ(参加方法)をご覧ください。
Online briefing session on admission in November 2020
The Graduate School of Peace Studies (Master's Program/Doctoral Program) will conduct an online briefing session on admission via Zoom Cloud Meetings. Please register in advance for this briefing session.
▶ Information on the last session
<Date and Time>
November 6th, 2020 (Friday)
18: 30 – 20: 00
<Contents>
Briefing session on admission to the Graduate School of Peace Studies
Part 1 (15 min)
Features of the Graduate School, faculty members and curriculum
Part 2 (15 min)
Outline of the entrance examination
Part 3 (10 min)
Brief introduction by current graduate students
Part 4 (50 min)
Q&A: Individual consultation session
<How to participate>
Application via email
● Please send an email to the Hiroshima Peace Institute Office.
E-mail: office-peace&m.hiroshima-cu.ac.jp
(Please replace & with @ when sending an E-mail.)
● Items to be described in the application email:
① Affiliation
② Full name
③ Course under consideration (MA Program or PhD Program)
④ Name of the teacher(s) you want to consult individually 
⇒ Faculty members
⑤ Questions (if any)
● Deadline
October 30 (Friday)
Confirmation email from the Hiroshima Peace Institute office
We will inform you of the Zoom meeting ID and password to attend the briefing session.
Download "Zoom Client for Meetings" and install it on your PC or smartphone
https://zoom.us/download
On the day of the briefing session
Using the meeting ID and password, log in to Zoom Meeting.
▶ For more information and to register, please see the flyer in Japanese.
---
Secretariat, Hiroshima Peace Institute, Hiroshima City University
Phone:082-830-1811 Fax:082-830-1812 
E-mail: office-peace&m.hiroshima-cu.ac.jp
(*Please replace & with @)